Greek Vases
One of the most powerful leaders and influential thinkers of the Golden Age was a man named Pericles (pehr-ih-kleez). Pericles loved beauty and preached its importance. The aesthetic ideals Pericles held sacred may be seen in everything the Greeks created. Beauty can be found in the perfectly proportioned temples of the period. It is reflected in the idealized sculptures of gods and athletes. It also appears in carefully designed vases such as the one in Figure 29–1. Examine this art object. Vases like this are examples of applied art.This is art made to be useful as well as visually pleasing. Applied art is usually seen in contrast with fine art,or art made to be enjoyed visually, not used. In this program, you will see many examples of each type of art.
Like other Greek vases, this one is remarkable for the beauty of its form. It is equally noteworthy for the quality of the painting that decorates it. The painting was done by Exekias (ex-zee-kee-uhs), the most famous of Greek vase painters. It shows a chariot led by a team of four spirited horses. Notice the air of excitement in the work. What art elements contribute to this feeling? What principles of art are used to organize them?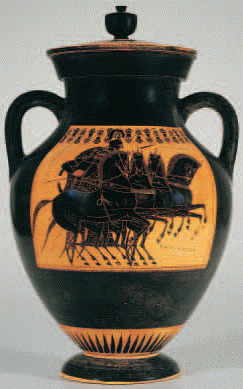 29-1
Ex. 2. Складіть три запитання до тексту.
Ex. 3. Доповніть речення:
1. Greece reached its peak during the fifth and …
2. It was called the Golden Age because it produced …
3. Pericles loved beauty and preached …
4. Beauty can be found in the perfectly proportioned …
5. It is equally noteworthy for the quality of the painting that…
Ex. 4. Прочитайте уривок тексту та заповніть пропуски:
Просмотров: 1063
Вернуться в категорию: Мода