THE PRINCIPLE OF EMPHASIS
To attract a viewer's attention to an important part of a work, artists use emphasis.
Emphasisis making an element or an object in a work stand out. One way artists create emphasis is through contrast. Examine the sculpture in Figure 17–2.Notice how the artist uses contrasting bold colors to draw the viewer's eye into and around the dancing figures. What object or element is emphasized in the work in Figure 17–1?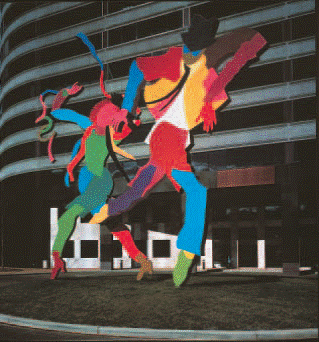 Figure 17–2Miriam Schapiro. Anna and
David. 1987. Painted stainless
steel and aluminum. 10.6 _
9.4 _ .23 m (35_ _ 31_ _ 9_).
Steinbaum-Krauss Gallery,
New York, New York.
THE PRINCIPLE OF PROPORTION
As an art principle, proportionis how parts of a work relate to each other and to the whole. A large shape in a picture filled with smaller shapes would stand out because of the different proportions in size. Look once more at the sculpture in Figure 17–2. Notice how the larger-than-life size of the figures adds to their importance and interest.
Ex.2.Дайте відповіді на запитання:
1. How did the artist create variety and harmony in this painting?(Figure 17–1)
2. Why do you suppose the artist chose to use emphasis and proportion the way she did in this sculpture? (Figure 17–2)
Ex.3. Напишіть визначення дoподаних термінів:
1.Varietyis…
2. Harmonymeans…
3. Emphasisis…
4. proportionis…
Домашнє завдання:
Ex.4. Вивчити визначення.
Питання для самоконтролю:
1.Name two ways artists can achieve variety in their work.
2.How do artists achieve harmony?
3.Explain the principle of proportion.
Unit 18. Drawing
Просмотров: 1143
Вернуться в категорию: Мода