Mottled Brown Tianmu, cone 9-10 oxidation
Glaze tests and Recipes
Here I share some glaze recipes tested with materials commonly available in Taiwan. They're all frit-less, as it is hard to buy here.
NB: UNDER THE HEADING "GLAZE TESTS AND RECIPES"YOU WILL FIND SEPARATE ENTRIES FOR OILSPOT, JUN AND GUAN ICE CRACKLE.
Mottled Brown Tianmu, cone 9-10 oxidation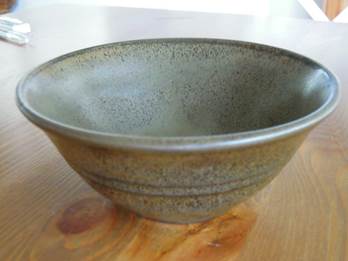 (Indian) Potash 70
Gaoling 5
Magnesium carbonate 10
Mixed wood ash 20
———— 105
RIO 8
This is a very stable glaze, always comes out looking nice.
If mixed 2:1 with a celadon-type glaze, nice variations of teadust glazes result.
______________________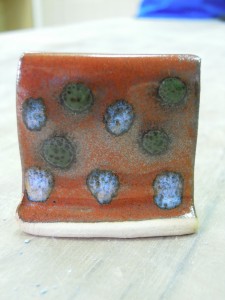 This is Nuka (blue spots) and Reeve's Green over Kaki (iron red). The last two recipes are from John Britt's excellent book, The Complete Guide to High Fire Glazes. The Nuka is Matthew Waite's Reconstructed Nuka minus the black iron oxide (see
Bailey's book, Oriental Glazes).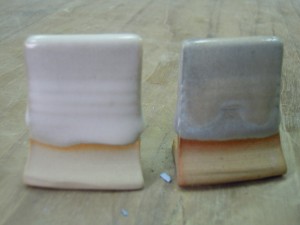 On the right, these are both Reconstructed Nuka, fired in oxidation (left) and reduction (right) respectively. The reduction test has more interest, but I am very happy to have found this melted-icrecream-look of the oxidation sample. These tests were done on white clay. Nuka on dark clay looks truly yuckie in oxidation, but great in reduction (see teabowl gallery).
______________________________
Просмотров: 1327
Вернуться в категорию: Другое