Kozlova Polina, Kovalenko Taisia
"Once upon a time…": are the magic words, that lead us to the fairyland of our childhood. These are the words storytelling and image making usually start with. Despite the fact that these activities are quite well-known to children, there are not stipulated by school curriculum and organized by teachers of foreign language. Thus, it is of great importance to prove that image making and storytelling are particularly significant in the lives of children and in the process of teaching as well. Stories are motivating and simple for listening. For sure, it is story that should be a central part of work of primary teacher of foreign language. Moreover, it is a good target to instill moral values.
We should separate the notions storytelling and image making from retelling. The main tools of the first ones are mimics, gesticulations and voice tone. The last one presupposes simple rendering of facts with no artistic support. It is obvious that image making needs some talent but it can be developed in the process of teaching and by the hints which are exposed below.
Storytelling can be used as a method to teach ethics and cultural norms, it can supplement analytical thinking... Fairy tales are not intended to be understood as true, but they call for sympathy of children, they lay the foundation of moral values and qualities as stories mirror our everyday life.
The aim of storytelling and image making is not only to entertain, but, to stimulate children's interest in language, to enlarge their vocabulary, to develop anticipation and to develop skills of listening.
As this activity mainly relates to children of a primary school, we will discuss mainly the ways and problems concerning storytelling for children of the age of 6-9 years old.
The first step in organizing storytelling and image making is the appropriate choice of a fairy tale. Certainly, you should like this story yourself and retell it with pleasure. It should sound understandable for children to enjoy it. The structure of the story should not contain long descriptions. As well as the number of unknown words should not exceed 2-3 % of all words. It will be nice if the fairy tale will relate to some occasion or holiday which takes place. It will sound memorable and more impressive.
What is the most effective way of remembering the story? Should a teacher learn it by heart? Certainly, no. The teacher should concentrate on the gist of the story rather than to learn every detail of it. Read the story for several times and then try to retell it. It is desirable for you to have an audience, as later they can evaluate your performance. If the visualization usually helps you to learn something then use mind map or spidergram in order to use your photographic memory. Write the key points of the story or draw some pictures that will help. Let us take the fairy tale "Snow White and the seven dwarfs".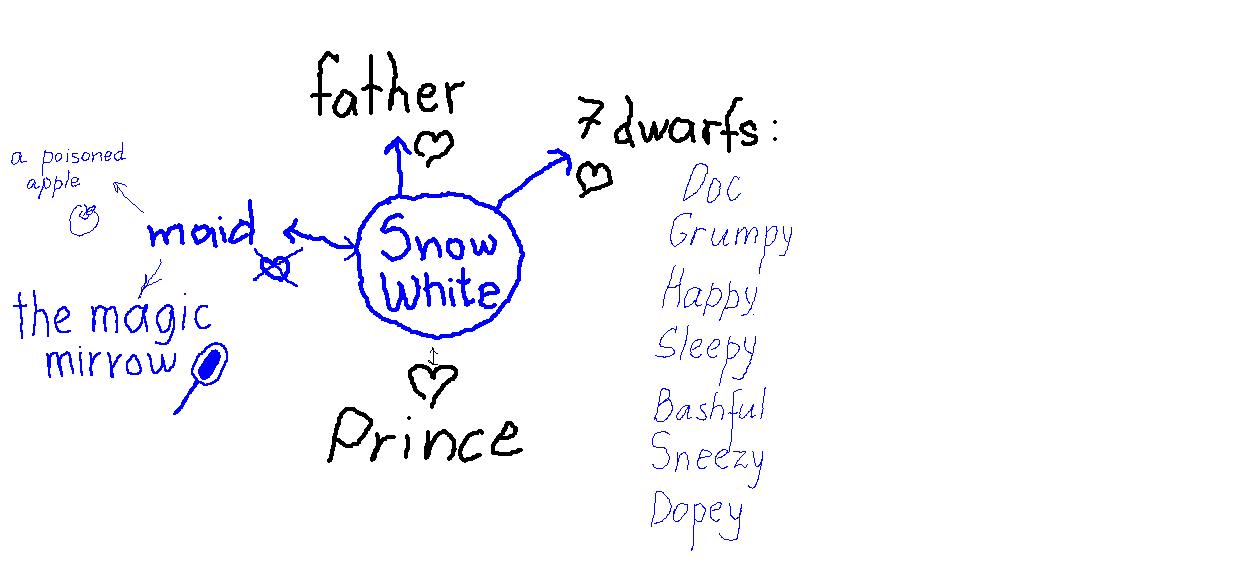 There is no doubt, that you should it dramatize several times at home before you will perform it to children. Thus, you have learned the story and mastered the artistic style of performance. The next thing to think over is the atmosphere you should create in class. It is of great importance how you will prepare children for such activity.
Definitely, storytelling is not a routine event and the most enigmatic and unordinary methods you will choose to introduce the fairy tale the most impressive influence it will make on children. You should prepare children to listen to you.
There are several ways of beginning the story. Either you start with the traditional words "Once upon a time" or you represent the topic of the fairy tale, e.g. "Today I would like to tell you about…". The main thing is to create appropriate atmosphere, as it was stated above and warn children to keep silence.
In order not to use the same word twice use synonyms. If you want children to memorize better make a word more specific (e.g. tomcat instead of cat).
The manner of presentation plays a great role in storytelling and image making. Despite the fact that the voice should sound distinct and audible, in order to deliver the message and inspire the children the voice should not sound monotonous and the intonation should not be dull. As a narrator the teacher has to adopt different voices for different roles: e.g. kind mother, strict maid, loving prince, cruel witch etc. Try to pronounce one and the same sentence with various voices, it will help in practicing. And no less important a question is the pauses you make during the speech. It makes children listening to you more attentively, stresses the information you are going to tell and creates tension.
It is obvious that in order to make the story exciting teacher should adopt different voice for the narrator and each of the characters. There are several rules that work in each storytelling. The manner of speaking of a negative character in fairy tale or in a story is characterized through pauses and stronger aspiration of consonants. If you are a woman and want to sound like a man you can lower the pitch of your voice by pulling back the tongue. When you practice this articulation you will feel vibrating at the base of the neck. And if you are a man and want to sound like a woman, then raise the pitch of your voice by pushing the tongue forward and make high-pitched sounds. If you want to show excitement, use long sentences with preposition andand pronounce them very quickly. E.g. And the monster came nearer and nearer and nearer!…
As it was said above, the story for image making and storytelling should not contain difficult words that are from passive vocabulary. Simplify the language of the story for young learners and they will be more motivated to learn English through this activity. Though, if some words are really significant for the meaning of the story, the teacher should present them to children on the blackboard or on individual papers – handouts. E.g. it is necessary to use the word "lumberjack" in the fairy tale "Little Red Riding Hood", because it is rather meaningful, or the very word "mermaid" in "The Little mermaid" which is definitely unknown to the children of primary school.
Body language and mimic are also of great importance. It is widely known, that people communicate much more through gestures and mimic than through words. It is particularly significant in storytelling as it helps to keep children's attention. Moreover, you can avoid using difficult words (adjectives, adverbs especially) by communicating with children through mime. The thing is not to overuse it. Eye contact with audience is also an essential tool in storytelling; firstly, children become more interested if you look at them and secondly, it helps to keep discipline in the class.
You can end the story in different ways. You can tell children about the ending of the story and ask them to express their reflections on it. The more interesting way that concerns stories, which are not so popular and are unknown to children, is to ask pupils to predict the ending of it. The advantage of the last version is the implication children to speak to the point and the development of their imagination.
Now, you got acquainted with certain universals that make a story to work well. The more stories you learn and present the more proficient you are in this sphere. Improvise and have fun!
References:
1. Wright Andrew: Storytelling with children. Resource book for teachers/ Andrew Wright – Oxford, 1995. - 219 p.
2. Spiro Jane: Storybuilding. Resource book for teachers/ Jane Spiro – Oxford university press, 2001. – 164 p.
3. Woodside G. Arch: case study research. Theory. Methods. Practice/ Arch. G. Woodside – Bolton College, USA, 2010, 409 p.
Просмотров: 310
Вернуться в категорию: Другое