Woo Blue variation (dark stoneware, reduction cone 9)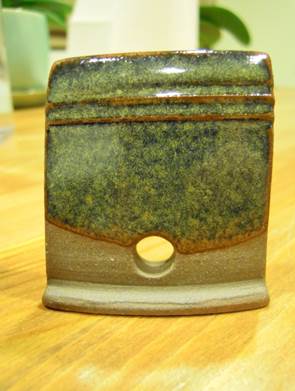 Indian Potash 42
Whiting 18
Silica 27
Gaoling 13
————- 100%
RIO 4%
Calcined rutile 4%
I had problems with pinholing in my first test, so I followed some advice from Clayart and tried calcinating the rutile (to 800 C). It helped a bit, but there is still some pinholing.
This can also be fired with good results in oxidation under a stiff white glaze.
______________________
Buckwheat, reduction cone 10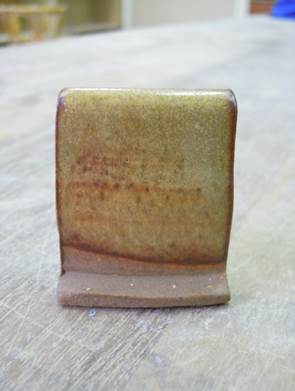 Fuhu/ Custer feldspar 50
Gaoling 24
Dolomite 16
Whiting 10
——– 100%
Zirconium silicate 8%
RIO 1.2%
Rutile 1.2%
I came to this recipe via the net at http://www.aug.edu/~artpxh/Class%20files/Ceramics/HighFireGlazeList.pdf when I was looking for a matte yellow liner glaze. This look fits the bill, but the recipe is too low in silica, and I have to see how I can put more in without changing the colour….
______________________
Guan Crackle 1reduction cone 9-10, from John's Britt book…. if I should chose a name for this glaze, it would be "How Beautiful It Is and How Easily It Can Be Broken" (also the title of an excellent book by Daniel Mendelsohn).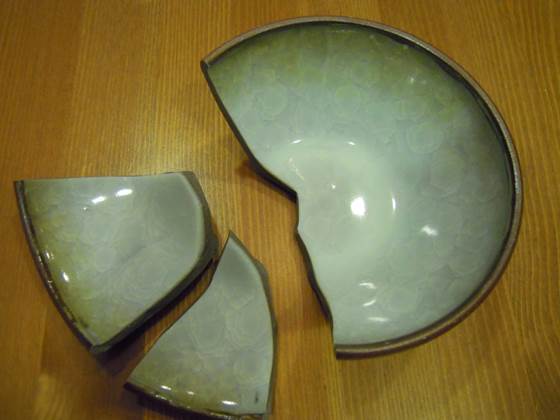 In retrospect of course I should have glazed the outside as well, but I wanted the contrast between the delicate glaze and the dark clay….
It was fired in light to medium reduction. You've got to observe the specific gravity (160) or your pieces will get smoky.
Adding 3-8% talc will blur the crackle a bit, but result in a safer and more stable glaze.
***RIO= red iron oxide
№2 http://mypottery.blog.com/glaze-tests-and-recipes/oilspot-recipes/
Просмотров: 976
Вернуться в категорию: Другое